The race to be the next Uefa president will begin in July, with elections scheduled for mid-September.
A meeting of Uefa's executive committee in Basel drew up the timescale to find a replacement for the disgraced Michel Platini, who is currently suspended from all football-related activity for four years by Fifa.
Prospective candidates to assume his position have to submit their applications by 20 July, with the final vote taking placed at an extraordinary Uefa congress on 14 September in Athens.
However, despite Platini's ban he still casts a shadow over European football's governing body, with Uefa's interim general secretary, Theodore Theodoridis, admitting the Frenchman "cannot be considered an enemy" and did not rule out him being extended an invitation to Euro 2016.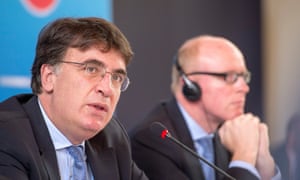 "In my capacity I have to look at what has happened in Uefa while he was president for eight years and, according to what all the members say, he was a very successful president," said Theodoridis. "How can a person who has served Uefa for many years be considered an enemy?"
Theodoridis said Uefa was trying to elicit from Fifa the extent of Platini's ban before next month's European Championship in France.
The Greek initially raised the possibility Platini could be invited by Uefa to the tournament in his homeland before subsequently back-tracking slightly.
"It would be good to have clarification from Fifa, as that is where the sanction came from," he added. "As it stands it is not completely clear and before the Euros begin we will find out exactly what the sanction means and what the person's rights are.
"Perhaps we might wish to invite him because don't forget he was the first [leading] scorer of this tournament – we have to clarify what we can do and cannot do."
But after being pressed on that matter later in the press conference Theodoridis softened his stance. "I never said we were inviting him, I never said we were not inviting him," he added. "We are exploring. It is not my decision. My job is to try to clarify what this sanction will mean."
While the former president – although according to Uefa's regulations Platini remains in post until a successor is appointed – still dominates the headlines European football's governing body are at least starting to move forward.
Theodoridis himself is considered to be one of the favourites for the post while Dutch FA boss Michael van Praag has already put his name forward at Wednesday's exco meeting.
Advertisement
"I don't speculate on what bookmakers say," he said. "I can't think about anything else until the magic date of 10 July [the day of the Euro 2016 final].
"I have learned never to say never but it is not my priority. I will have other issues to deal with."
Uefa's meeting in Basel took place a few hours before the Europa League final between Liverpool and Sevilla.
The choice of the 35,000-capacity St Jakob Park has been criticised, with thousands of ticketless Reds fans travelling to Switzerland in the hope of securing one on the black market on their arrival. While Uefa has consistently defended the selection process for venues, which takes place more than a year in advance, Theodoridis did admit a tinge of regret.
"Judging by the outcome of course we would all be far happier if the stadium was far bigger but in the past this was not the case in recent finals," he said.
"It is difficult to take a decision and speculate which teams will participate. This competition grows so much so we may have to go to capacities similar to Champions League [finals]."
Theodoridis was also challenged on speculation about the potential formation of a European Super League. "This organisation has always been open to discussion with everyone, large and small," he said. "We have a club competitions committee with very experienced executive committee members.
"They will examine and explore all possible scenarios to find best solution for European football."
Uefa's exco also discussed the issue of Kosovo's new recognition as a member country earlier this month, deciding their domestic champion and the cup winner could be admitted to the first qualifying round of the Champions League and Europa League if they can meet licensing criteria by the end of this month.
A more thorny problem relates to international football, where tensions in the Balkans are high after the country declared independence from Serbia in 2008.
"We have an issue about determining teams that can play against Kosovo and other teams we have to take precautions to avoid clashes," said Theodoridis. "The obvious one is Serbia but we have other cases where it is problematic as there are a lot of cases where countries do not recognise Kosovo."