Telecommunications company, MTN Ghana has announced that it will restore the Data Zone bundle to customers on Friday, May 5, 2023.
The announcement follows the suspension of the data package bundle which took effect on April 5, 2023.
The suspension was greeted with uproar from a section of its subscribers.
The National Communications Authority (NCA) earlier announced that MTN Ghana will soon restore the package with revised charges.
According to the NCA boss, Joseph Anokye, the service was due to be restored after MTN Ghana submitted a revised data zone bundle which met their regulatory requirement.
To this end, MTN Ghana in a Short Message Service (SMS) to its customers on Wednesday, May 3 notify the return of the innovative data bundle with revised charges.
"Dear Valued Customer, kindly be informed that effective May 5th, 2023, Data Zone bundles will be available to you with revised offers," the message read.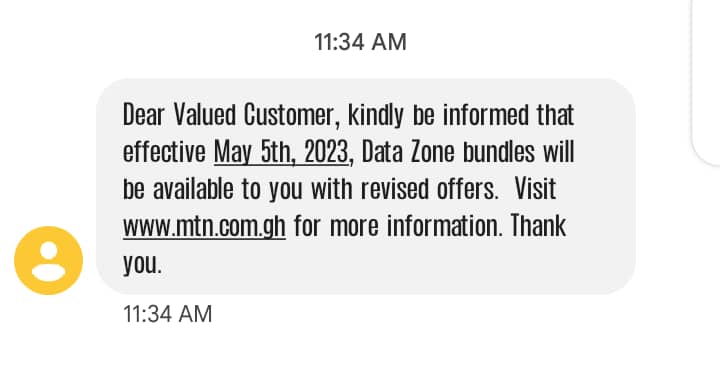 Data Zone bundle is a package by MTN Ghana that gives customers a 1-day validity bundle at discounted rates at the point of purchase.
Scancom PLC, operators of MTN Ghana, in a press release announced the suspension of the Data Zone bundle on Wednesday, April 12.
It, however, apologised to its "cherished customers for limiting our communications on this matter to service activation channels only."
Source : myjoyonline