The Electoral Commission has reacted to the recent altercation between the Agona West Constituency Organizer of the New Patriotic Party (NPP) and a member of the National Democratic Congress (NDC) communication team in the constituency during the limited voters' registration exercise.
The Commission made it clear that the incident was unrelated to their operations.
Earlier media reports had suggested that the NPP Organizer, Sam Toys, had allegedly inflicted cutlass wounds on an unnamed NDC member during the registration exercise, leaving the NDC member in critical condition.
The incident had apparently happened at the Agona West office of the Electoral Commission in the Central Region.
NDC's Deputy Organizer in the constituency, Samuel Ametepey, who claimed to have witnessed the incident, expressed his disappointment and blamed the Electoral Commission for the incident.
However, the Electoral Commission, in a statement posted on its Twitter handle on Monday, September 19, 2023, stated that, the incident did not occur at its district office as initially reported.
The Commission clarified that, the incident took place four hours after EC's registration activities at the Agona West district office ended.
The statement, signed by the acting Head of Public Affairs for the EC, Michael Boadu asserted that, the reports from the Daily Graphic and the Daily Guide were erroneous and should be disregarded. The Electoral Commission also demanded that the two media outlets retract their reports.
Furthermore, the Commission condemned Samuel Ametepey, the NDC's Deputy Organizer in the constituency for attributing blame to the EC when it was not involved in the incident. The EC expressed concern about what it perceived as calculated attempts by certain segments of society to tarnish its image and credibility.
Below is the full statement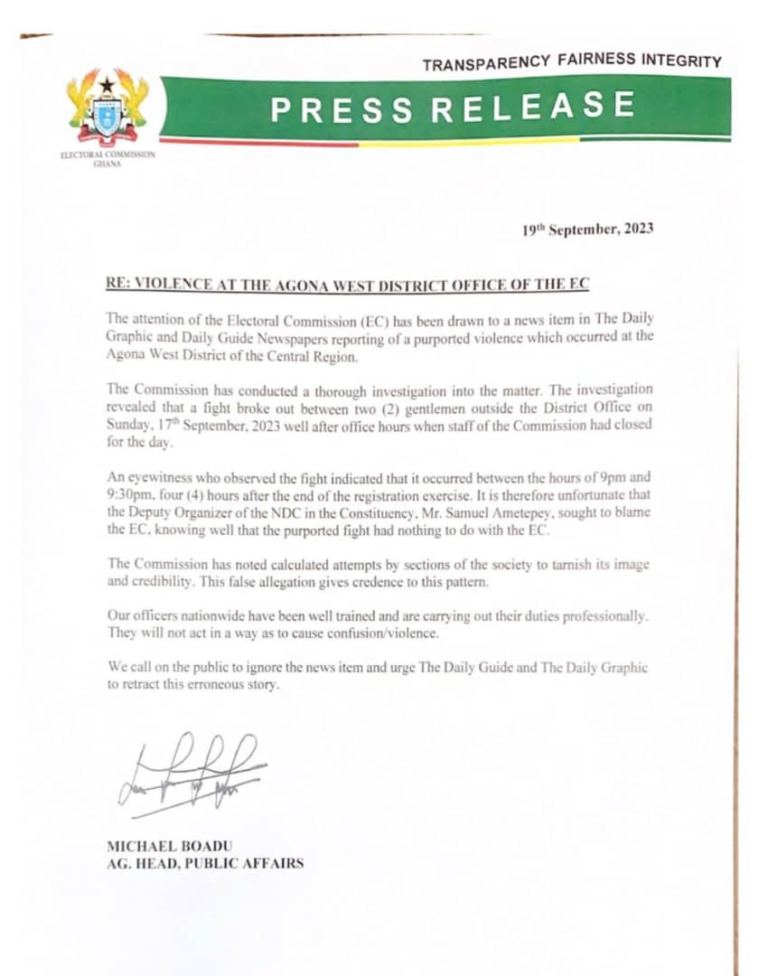 Source : adomonline